Greeting Brothers of the Great State of Florida,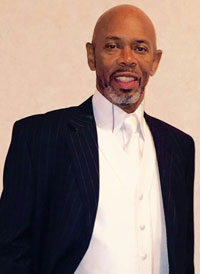 First giving honor to my Lord and Savior Jesus Christ, the Supreme Basileus of the Universe, it is a blessing, honor, and privilege to serve as the 22nd State Representative for the Florida Statewide Organization of the Omega Psi Phi Fraternity Inc. Our motto is "Friendship is Essential to the Soul" and our Cardinal Principles are "Manhood, Scholarship, Perseverance, and Uplift". The Florida Statewide Organization is comprised of 7 Regions, 42 Undergraduate and Graduate Chapters and over 1600 members. On behalf of the Officers and Brotherhood of the Florida Statewide Organization of Omega Psi Phi Fraternity, Inc., welcome to our website. Thank you for taking the time to visit and learn about our beloved Fraternity.
The Florida Statewide Organization has consistently remained at the forefront of the Fraternity's efforts to fulfill its commitment to serving our respective communities. My goal as State Representative is to ensure that the Florida Statewide Organization continues to set the standards to which other states and districts aspire, by providing innovative ideas, progressive policies and intelligent best practices. We will continue to focus on and strive for 100% completion, and reporting on our "Mandated Programs" by all of our chapters.
Through our Scholarship Initiatives we have served as a financial resource for our undergraduate brothers and hundreds of college bound students throughout the state.
Our Fatherhood Initiative allows us to partner with other community based organizations to address the myriad of issues associated with African American males.
Our medical and health initiatives encourage brothers to take charge of their physical health through educational workshops, and onsite screenings. We will continue to work on various health related projects including programs designed to combat prostate and colon cancer, cardiovascular and sickle cell disease, diabetes, high blood pressure and actively sponsor lifesaving blood drives, just to name a few.
We will increase support for our undergraduate brothers, morally, academically, and financially, to insure that undergraduates are given an opportunity to serve on all standing and sub-committees. We need to tap into the insights and experiences of our undergraduate members, and share our own insights and experience with them as well.
There will be no compromise on adherence to established policies and procedures when it comes to hazing. We will maintain the zero tolerance protocol for hazing as mandated on all levels of our fraternity. Finally, I want to thank the brotherhood for the team you have assembled within the FSO Executive Council. Additionally our Regional Representatives and Committee Chairmen are dedicated to advancing the Fraternity's position as one of the finest organizations in the country. We are ready to get to work. I will work diligently to fulfill my oath of office with integrity and enthusiasm. God bless, protect and keep the Omega Psi Phi Fraternity Inc., and all of her loyal sons.
 Fraternally yours,
Clifford H. Wimberly, Sr.
Florida State Representative